Artisinal Goat Cheese & Goat Cheese Spreads
Northern Alabama based company making fine goat cheese products since 1989.
Creating delicious and better for you products with an amazing cheese is our company's passion
Our Story
Belle Chevre has been making fine goat's milk cheeses for over 30 years!
We are a passionate company dedicated to using time tested, even ancient, recipes and then putting our own modern spin on them producing some of the best goat cheeses made on the planet. And it all started in the small town of Elkmont, Alabama.

Goat cheese spreads
Belle Chevre's award-winning goat cheese spread is high in protein and low in fat and sugar, and is easy to digest. Its made by hand using all natural ingredients and available in five yummy flavors.

Goat cheese spreads in 1.5 oz single serve cup
Belle Chevre's award-winning goat cheese spreads are now available in a single-serve size.
Beginning March 1, 2022. Belle Chevre's goat cheese spreads are available in 1.5 oz individual serving size cups. The product is the same hand-crafted, high protein, low fat, and low sugar goat cheese spread that costumers have come to love, just in a more convenient size.
Available in individual flavor cases or a mixed flavor case. Our easy to digest yet flavor forward spreads are a must for your next occasion.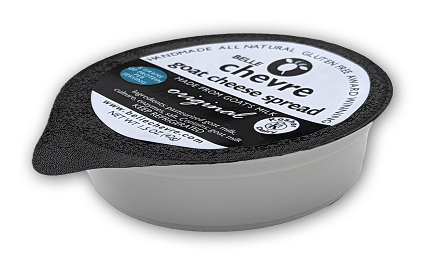 Belle Chevre's formed goat cheeses
Our formed cheeses are aged an average of 7 days.
Fresh Chevre – 4 lb. Food service tub
Belle Chevre original fresh Chevre is now available in a convenient 4 lb tub.
Our Chevre has 5 grams of protein and no sugar per serving. It' all natural ingredients are lower in fat, higher in calcium and easier to digest. Chevre is a delicious and healthy substitute in recipes that call for cream cheese or ricotta.